According to a Google's research we will give you the facts to answer key questions about the path to purchase of online customers.
Maybe this paper will encourage marketing leaders to move to a fact-based approach to understanding the consumers path to purchase.
The results indicate that:
Research journeys are long and can take a month or more in some categories. With a strategic proactive live help you can reduce this period of research, understanding better needs of your customers.
One in three conversions occur 30 days after the online research began (the perception of risk is a key factor in the timing of research). Though the average path to purchase for all verticals is under 1 month, we find that one in three conversions occur at least 30 days after the initial research began.
70% of purchasers use search at some point in their research journey. Over 70% of consumers who purchased online run at any rate one relevant search during the observation period. customers online are 30% more likely, on average, to have performed a search than customers whose research didn't finish with a real conversion. These customers are also more likely (by 17%) to have clicked on a sponsored search ad.
The way shoppers research and purchase different products online doesn't neatly follow traditional structured method for developing products and/or service offerings at multiple price points. The Marketing Funnel, done right, maximizes the lifetime value of a client.
Search paths to purchase often include brand and generic terms and 48% of purchasers switch between terms at some point in their journey.
BRAND VS. GENERIC SEARCHERS
To achieve the maximum number of profitable sales or conversions advertisers everyone have to understand the entire value of all consumer online touch points and, in particular, the role of 'assist' clicks in the consumer path to conversion.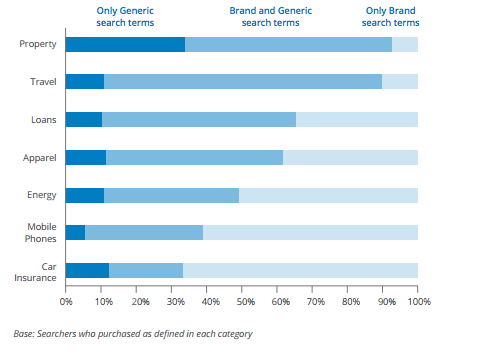 Vivocha comes with an integrated Proactive Engine that's able to recognize from which search the user is coming from, and offer a different experience to anybody. Take a look at all the features or request a demo to learn more.