Works well with other software
---
The Vivocha Platform offers a set of APIs and SDKs that provides developers direct access to the core platform capabilities, account configuration, and communications channels. Designed for high availability precesses, these APIs reduce development effort allowing any kind of integration and mash-up. The API consists in a set of RESTful web services, plus a series to language bindings, including Javascript, ActionScript and iOS.
Know in real time the navigation path of each visitor, the page they are currently viewing, and where they asked for help. Combining real-time dialogue with page pushing, content sharing, and form sharing are operations that enable the most productive management of customer requests and increase the likelihood that the question will be resolved in the first contact.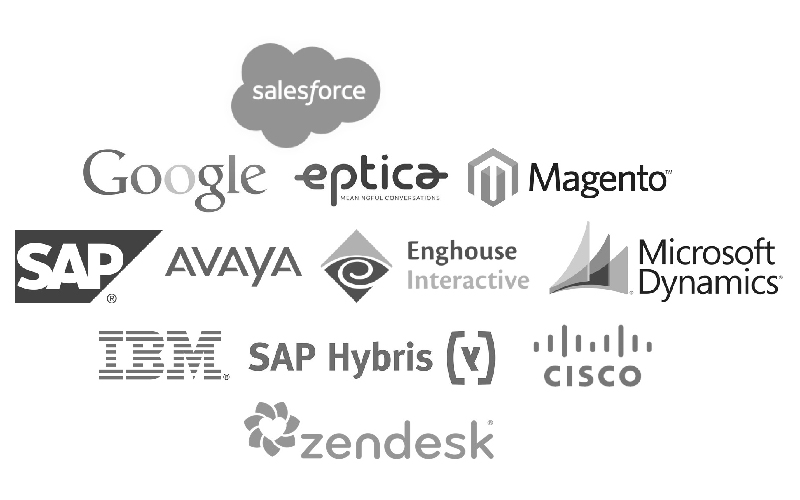 Efficient interactions
Vivocha is completely cloud-based, offering maximum flexibility, real-time updates, and zero deploy time. Developed with integration in mind, Vivocha offers APIs designed to simplify the process of integrating with external apps.
Integrating Vivocha with other applications allows agents to keep working on a single platform while interacting with contacts. This reduces average response time, speeds up task completion, and avoids errors, providing a better overall experience.
Vivocha enables businesses to seamlessly communicate with prospects and customers directly on their own store, using any combination of voice, video, chat, callbacks, and collaboration tools like co-browsing, and form and document sharing.
Vivocha offers a complete, easy to set up and fully customizable integration with a number of platforms to create a unique e-commerce environment.
Creating ad hoc engagement widgets for any number of user segments, each with a customised CTA, is quick and simple.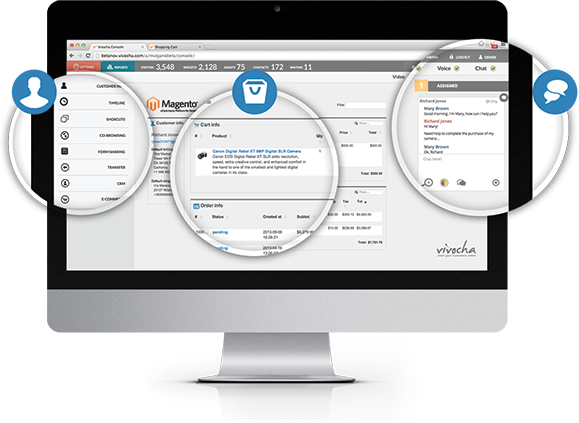 Key Features
Provides agent with single view of all relevant customer and cart info
Out of the box integrations with no coding required and a 5 minute set up
Customises to match client website look and feel
Proactive engagement enables personalized call to action
Key Benefits
Increases conversion rates by preventing abandoned shopping carts
Strengthens engagement and relationships with brands
Assisted shopping with co-browsing and form-filling
Further builds the customer profile
Identifies and supports hot leads



With Vivocha, you get unparalleled agent productivity, thanks to seamless integration between a number of platforms – CRM, customer service, ticketing and many more.
Service reps can see every bit of relevant information in one screen, the very desktop they interact with customers from – whether it be via chat, click-to-call, callback and even video.
Agents can leverage existing customer information and even update it with the latest interaction-based data, thus delivering better customer experience together with an increased personal and overall productivity.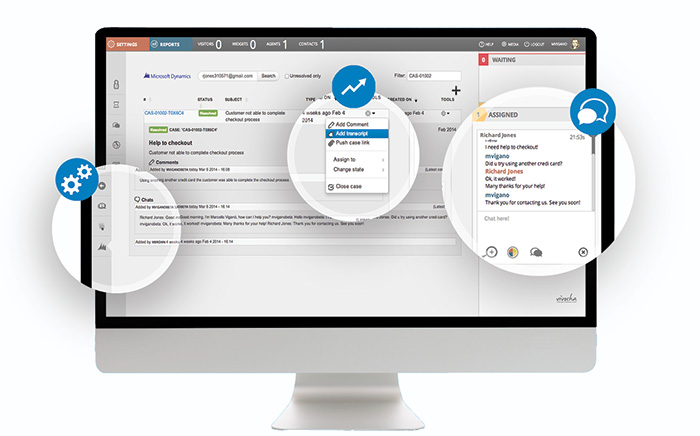 Key Features
Create tickets on the fly during a voice call or a chat with a visitor
View the pre-existing tickets of a returning customer
Add a comment to an existing ticket
Add a chat transcript as a comment to an existing ticket
Push a ticket link to a customer during chat, voice, or video interaction
Key Benefits
Strengthening engagement, relationships, and the brand
Differentiation from the competitors (multichannel vs. chat only)
Suggesting trials, visits, demonstrations, and surveys
Preventing dissatisfaction with the site or service
Reducing cost per contact



CMS
Vivocha integrates perfectly with your CMS, exploiting website information to proactively engage customers and to be quicker and effective in communicating with them.
ANALYTICS
Thinking about your marketers and how they need to see the full picture in order to make good business decisions; with Vivocha, chat transcript KPIs integrate natively into most leading analytics suites, supplying analysts with a comprehensive view of your website's traffic.
CTI
Vivocha can integrate seamlessly with leading CTI, PaBX or SIP server vendors, either out of the box or on a project basis; leveraging the routing and reporting capabilities of the pre-existing infrastructure





At the very heart of Vivocha sits its API, that gives Vivocha the ability to allow any kind of integration and mash-up.
Integrating Vivocha with other applications allows agents to keep working on a single platform while interacting with customers, reducing the average response time, speeding up task completion, and avoiding errors, thus providing a better overall customer experience.
Through the API, Vivocha users can, for instance:
Fully customize, or even rewrite, each user interface element (the chat window, the surveys, the
proactive popups, etc)
Create custom proactive rules, leveraging third party tools and platforms to take proactive
decisions (e.g. reading shopping cart status, getting realtime traffic or weather information,
check the availability of stock and available delivery slots, etc)
Integrate Vivocha in custom apps or enrich advertising campaigns
The API consists in a set a RESTful web services, plus a series to language bindings, including Javascript, ActionScript and iOS.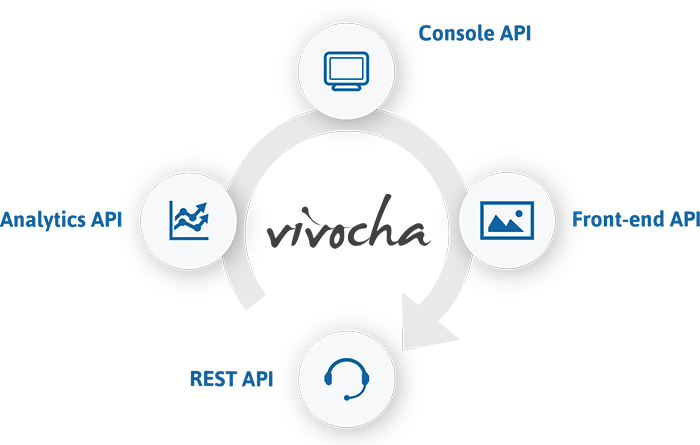 3 LEVELS OF INTEGRATIONS: CMS, PROACTIVE RULES, AGENT DESKTOP
The power of Vivocha, enabling real-time customer interaction, is also available on the go. Vivocha's mobile SDK easily integrates instant chat or voice support directly into iOS and Android Apps, thus delivering customers the ultimate, seamless and contextualised mobile experience.